CLEAN MONEY ACT - Volunteer All Mail - olgalazin@gmail.com - Gmail
CAMPANUA BANILOR CURATI in alegeri, in statul California; join US: eu voluntarizez cu drag: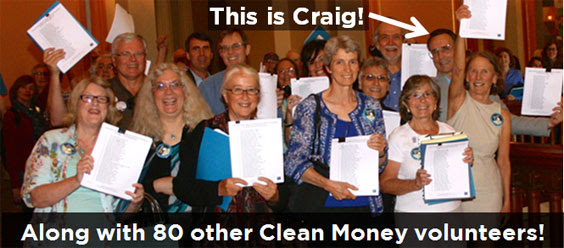 Clean Money volunteers deliver more than 45,000 signatures on theCalifornia DISCLOSE Act petition in June. That's Craig in the glasses on the right. More than 80,000 have signed now!
Hi Olga -

My name is Craig Dunkerley, and I'm a Clean Money volunteer.

I'm passionate about volunteering for Clean Money because I know nothing is more important to our future than making sure Big Money special interests don't control politics.

A powerful first step is making sure ballot measure ads can't deceive us about who pays for them. That's why the California DISCLOSE Act requires ads to show theactual funders in a big contrasting font on a black background: No more front groups in fine print, just the truth. That's inspiring!

We have a real chance to pass it because of all our dedicated volunteers. They need and deserve the support of staff, materials, and Clean Money's powerful organizing tools. Volunteers do most of the work — making our organization highly thrifty — but they can't do everything.

Did you see the great opportunity to help get the campaign for theCalifornia DISCLOSE Act off to a strong start in January? From now until

midnight

on the 31st, your donation will be matched dollar-for-dollar, up to $10,000.
Need a tax-deductible donation?
Donate to the California Clean Money Campaign instead, and your gift will also be matched.


I'm proud to volunteer alongside so many other wonderful activists for theCalifornia DISCLOSE Act. We're all part of something really big. In fact, David Dayen of Salon.com called it "... the biggest post-Citizens United effort to alter how campaigns are run in America..."

The fact that this year's national elections were dominated by Dark Money and then Congress immediately acted to give millionaires even more power shows that California has to take the lead. That's why I agree with political columnist Thomas Elias who called the DISCLOSE Act "...the single most important piece of legislation in 2015".

I'm excited that we're coming back stronger than ever with a new and improved bill— and developing even more volunteers and grassroot support than the 80,000 people who've already signed petitions, and the thousands of people who called, wrote, and lobbied.

That's why I'm asking you to join me in taking advantage of this year-end opportunity to double the impact of your donation so we can hit the ground running in January.

Need a tax-deductible donation?
Donate to the California Clean Money Campaign instead, and your gift will also be matched.


When I think of all we've accomplished, it shows the power of volunteers like us in the expanding movement against Big Money. Not only did 2014's version of the DISCLOSE Act go farther than any such bill ever has, but Clean Money activists helped pass two other important anti-Dark Money bills, SB 27 and SB 844. Here's what one of Senator Pavley's staffers said:
"Don't EVER think grassroots activism does not pay off! Thanks to a massive effort by the California Clean Money Campaign and Trent Lange, Senator Pavley's SB 844 was signed today. Now voters will have clear information about who is spending big bucks for and against ballot measures! Woohoo! A win for the people and not the special interests."
Clean Money volunteers like us made that happen — and together we'll pass the even more powerful California DISCLOSE Act!

I know not everybody can afford to donate, so it's vital for those of us who can to chip in as much as possible. I make monthly donations myself. Donations buy materials, pay for our powerful phonebanking system and database, and provide the organizing we need to win.

Thank you for everything you do. Together we'll pass the California DISCLOSE Act, a giant step in creating the democracy Californians deserve.

Craig Dunkerley
Volunteer Coordinator
California Clean Money Action Fund

I LOVE ALL OUR VOLUNTEERS, ANDREI SCHIOPUL, si IOANA NECHIFOR;
---
California Clean Money Action Fund

The California Clean Money Action Fund is a non-profit, non-partisan 501(c)(4) organization that is the political advocacy arm of the 501(c)(3) California Clean Money Campaign. The California Clean Money Action Fund has been fighting for legislation and ballot measures to limit the undue influence of Big Money in California politics since 2006. All our support comes from individuals and non-profit foundations, with no funding from corporations or unions.


All Mail - olgalazin@gmail.com - Gmail
:
'via Blog this'