Mexico's Supreme Court Paves the Way for Legalizing Pot ... Will Affect California and US
Mexico's Supreme Court Paves the Way for Legalizing Pot ... Will Affect California and US
:
Archive-Hidden
Mexico's Supreme Court Paves the Way for Legalizing Pot ... Will Affect California and US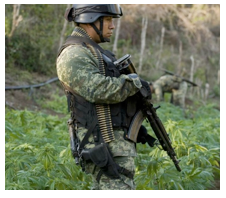 RETHINKING THE WAR ON DRUGS -The American-led war on drugs has done little to reduce cartel and state violence in Mexico. The Mexican Supreme Court
has ruled
that individuals have the constitutional right to grow and distribute marijuana for personal use, a much-anticipated decision handed down Wednesday that delivers a landmark blow to the drug war in Latin America.
While the ruling does not strike down any existing laws, it opens the door to legalization by challenging the country's strict prohibition rules and throwing the weight of the highest court behind a growing marijuana policy reform movement.
As reported by the New York Times, the ruling also "reflects a changing dynamic in Mexico, where for decades the American-backed war on drugs has produced much upheaval but few lasting victories."
The Times continues: "Today, the flow of drugs to the United States continues, along with the political corruption it fuels in Mexico. The country, dispirited by the ceaseless fight with traffickers, remains engulfed in violence. [...] With little to show for tough-on-crime policies, the balance appears to be slowly shifting toward other approaches."
The ruling came in response to a petition filed by a cannabis club, the Mexican Society for Responsible and Tolerant Consumption (SMART), and an anti-crime organization, Mexico United Against Crime. SMART had applied for a license from the country's drug regulatory agency, but was denied. The court's ruling emanated from the group's appeal of the agency's decision.
Armando Santacruz, a plaintiff in the case, said after the ruling, "We're killing ourselves to stop the production of something that is heading to the U.S., where it's legal."
'via Blog this'